Our Director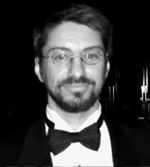 Dr. Peter Nikiforuk is a native of Brantford, Ontario where he received his early musical training in piano, organ and theory with Nan and Markwell Perry. He received his undergraduate training at the Faculty of Music, University of Toronto from which he graduated with a Bachelor of Music degree. John Tuttle was his principal teacher. During his last two years in Toronto, Peter was assistant conductor of the Hart House chorus, founding conductor of the Hart House Chorus Chamber Choir and assistant organist at the Church of St. Mary Magdalene. In 1985 Peter moved to the United States to study with Robert Baker and Thomas Murray at the Yale University Institute of Sacred Music. The recipient of numerous prizes and scholarships, he was awarded the Master of Music (1987) and Master of Musical Arts (1988) degrees while resident there. In 1993 Peter was awarded the degree of Doctor of Musical Arts, also from the Institute of Sacred Music. In the academic year 1988-1989, Peter studied at the Royal Academy of Music in London, England, graduating with an Advanced Course diploma. His principal teachers were John Scott and Patrick Russill.
Dr. Nikiforuk returned to Canada in 1989 to accept the posts of executive director of the Royal Canadian College of Organists (RCCO) and director of music at St. Peters Lutheran Church, Kitchener. From 1993-1997 Peter was director of the Listowel Concert singers. In 1998, he was appointed artistic director of Menno Singers and in 2000, he resigned his position at the RCCO to join the faculty of The Beckett School, Inc in Kitchener as instructor in theory and music history.
In 1997, Peter produced and wrote the program notes for the RCCO's first recording project, an archival release entitled Healey Willan at the Church of St. Mary Magdalene which is distributed on the EMI Classical label. The St. Peter's choirs released a CD entitled O Be Joyful in 1996. Also in 1996 Peter was declared the winner of that year's Leslie Bell Prize in Choral Conducting (Sir David Willcocks, chair of the jury). The spring of 1998 saw the release of the first anthems from a new publishing house, Kelman Hall of which Peter is the general editor. Menno Singers released the CD, See Amid the Winter's Snow, under Peter's direction in 2000. In 2002, he became a member of the College of Examiners for the Royal Conservatory of Music. Peter is also an active recitalist and clinician and has taught on the part-time faculties of the University of Guelph, University of Waterloo and Wilfrid Laurier University.